"Creativity is creating things for other people to appreciate and enjoy."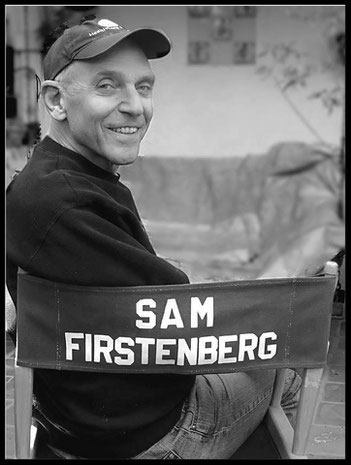 Sam Firstenberg  is the mastermind behind such hits like Revenge of the Ninja (1983), Ninja III: The Domination (1984), American Ninja (1985), American Ninja 2: The Confrontation (1987), Breakin' 2: Electric Boogaloo (1984) and Avenging Force (1986).  He has directed over 20 feature films and worked throughout the 1980s with the legendary Cannon Films. My first contact with Sam's work was in the 80s in Turku, Finland. I was often at my friend's place and he had access to Cannon movies on VHS. There I submerged myself into the world of Cannon and for the first time saw Revenge of the Ninja and American Ninja. The latter stole my heart completely with the perfect mix of action, humor, romance and adventure. It was popcorn entertainment in its purest form. What impresses me still today is the way Sam displayed action with energetic, fun and light tone. How he created likeable, charming characters with pitch perfect casting. How he used exotic locations in his visually spectacular action scenes and how he raised the excitement with sharp editing and musical score. Even back then it blew my mind and the feeling has only increased throughout the years. So yes, I fell in love with American Ninja the very first time a saw the movie!  For me, it is still the ultimate Ninja movie and the best one ever made! 
I also think It is one of the finest action movies of the 1980s. Yes, you heard me right! American Ninja belongs to the big league with Die Hard, Predator, Raiders of the lost Ark, Lethal Weapon 1 & 2, Aliens, First Blood, Rambo: First Blood part II, Robocop, Rocky IV, The Terminator, Mad Max 2, Commando and many more. The movie knows what it is and knows its audience. It doesn't pretend to be anything else and it doesn't need to! American Ninja is superbly crafted, charming and fun as hell! So it is not surprising that American Ninja became an American pop culture favourite and a big success during its theatrical and VHS release around the world. It also launched a popular franchise and made a star out of Michael Dudikoff. That is the magic of Sam Firstenberg! Many wonderful movies came before and after, including the colorful and fun musical Breakin' 2, and the second teaming of American Ninja stars, Michael Dudikoff and Steve James in Avenging Force, which Sam made before returning to American Ninja franchise with the highly entertaining action-packed entry American Ninja 2: The Confrontation, which also starred Dudikoff and James. Avenging Force is without a doubt Sam's finest work along with American Ninja. 
It is slightly darker than his Ninja movies, but Avenging Force has Sam's wonderful sense of positive energy, storytelling, stunning locations and spectacular action scenes. Unlike American Ninja, which was distributed by MGM, Avenging Force was released thru Cannon Films' own distribution without a big fanfare and marketing. The movie did very well, but with proper marketing it could (and should) have been as big as American Ninja. For some people these kind of action-adventures are B-movies, but for me they are so much more! Sam has made his movies with a big heart and he is an auteur working in a world of studio system with limited schedules and budgets, but with creative freedom, and it shows! Sam's passion for filmmaking is so evident in his work and he truly is one of the best action directors of the 1980s! I wanted to talk to Sam about his creativity, passion and life. Here is my interview with Mr. Firstenberg. Enjoy!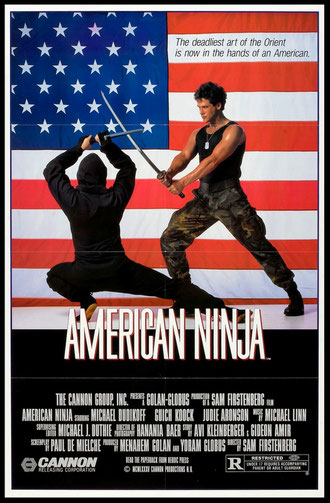 ---
 (July 2018)
Marko: What inspires you in life, Sam?
Sam: The pursue of happiness inspire me in life. The triumph of the human spirit, the success of goodness over evil. Tolerance, politeness and optimism inspire me.
Marko: What kind of movies or TV-series do you love to watch?
Sam: I love movies with good storytelling in it, solid entertaining drama with element of hope and redemption and a positive message in them.
Marko: Your movies have such a positive energy and one can feel your passion to filmmaking. What does directing movies mean to you?
Sam: For me directing movies is actually telling a compelling story by means of visual elements with entertaining and positive values attached to them.
Marko: You were born in Poland and grew up in Israel. Please talk about being a foreign director in Hollywood making American movies.
Sam: Trying to assimilate into and adapt a cultural environment that is not native is difficult for any person. For a foreign director it will be an almost impossible task to make a movie that deals with deep American values and American cultural icons the like of American Graffiti or The Last Picture Show but luckily for me Hollywood makes a lot of universal theme movies for international consumption, films that have to apply to every person around the globe.  Within this contexts and this kind of filmmaking any talented director can be included.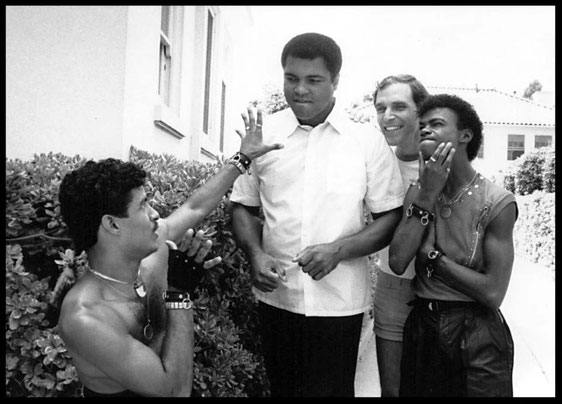 Sam, Muhammad Ali, Shabba-Doo and Boogaloo Shrimp during the making of Breakin'2: Electric Boogaloo (1984)
Marko: You have directed a musical Breakin' 2: Electric Boogaloo. What kind of meaning does music have in your life and work? What kind of music do you listen?
Sam: Music has a major influence on my life. I am not a musician but I do listen to music all the time and it keeps me in good and relaxed mode constantly. I love popular songs mostly old ones but I mainly listen to Classical Orchestral Music, it's my favorite.
Marko: What is your favourite book and why? Is there a book you've always wanted to make into a movie?
Sam: There are so many great fictional works that it is impossible for me to point out just one as my favorite, I love good stories. I can recall only one of them that spared my desire to adapt it into a movie and it is The Color of Water by James McBride, a black man's tribute to his white Jewish mother.
Marko: You are a very creative person, and you have also created beautiful furnitures and decorations. Please talk about that side of creativity in your life. Does it have any connection to your filmmaking?
Sam: As I see it, creativity is creating things for other people to appreciate and enjoy. Making an entertaining movie, building a fine-looking furniture, displaying a beautiful photograph, cultivating a pleasant garden, designing a serene interior, or telling a compelling story are all included. It gives me great pleasure to see people enjoying any of my creations and in return I enjoy the compliments.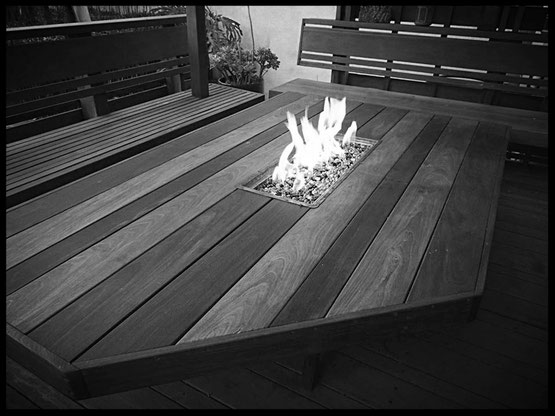 The beautiful work of Sam.
Marko: American Ninja is one of my favourite movie! Michael J. Duthie, who was the film editor also cut many of your other movies (and my first movie). Please talk about the editing process of American Ninja and your other movies.
Sam: Editing is the most intricate and perhaps the most creative process in making a movie. Through editing the moviemakers create the mechanism that manipulates the audience's fillings, thoughts and emotions. In the process of editing we bring together the cinematic elements into one coherent piece of creative work shape and reshape its narrative and dramatic structure. This is especially true in editing exciting action sequences and editor Michael Duthie is a master at this craft.
Marko: Family life and making movies can be sometimes conflicting due to long working hours, traveling etc. How did you managed to deal this area in your long career?
Sam: It is all a matter of tolerance consideration and respect. My wife Iris also developed a career as a university professor in UCLA. We were both busy professionals yet our three daughters received plenty of attention and love. Obviously directing movies is not 9 to 5 job but on the other hand there were also long periods of time that I did not work at all and stayed at home devoting more time to family life.
Marko: You have done and seen it all in the film business and worked with movie moguls like Menahem Golan and Yoram Globus of Cannon Films. What did you learn from them? And have you ever thought about forming your own production company and produce movies?
Sam: From Menahem Golan and Yoram Globus I learned that in the movie business resilience is an important characteristic one must have in order to survive in this field. You can't let rejections and criticism deter you and distract you from striving to achieve your objectives. Being a director I always saw myself as a creative person that deal with creative matters and not with the administrative and financial aspect of moviemaking, therefore I never had the desire to form a production company or produce a movie.
                                                                                                     Movie mogul Menahem Golan and Sam in Cannes Film Festival.
Marko: You have done successful Hollywood movies in all genres during your career and worked not only as a director, but as assistant director, writer etc. What has been for you the most important and meaningful moment in the movie business?
Sam: It might sound strange but to me, the most meaningful moment in my movie career was when during the filming of American Ninja. I saved a girl from drowning to death in a swimming pool in Manila. Making movies and telling stories serves generally as a needed function in society it is a nice contribution but saving young girl's life is meaningful.
Marko: Any advice for the future directors out there?
Sam: The best advice I can give to any future aspiring director is to focus and concentrate on the stories you are trying to tell. Your goal is to tell stories and not to be successful or rich or famous, if you tell good, compelling exciting stories success will follow. And if you don't have the financial means to make the big movie of your dream, make a small one to practice and prove that you can tell a cinematic story.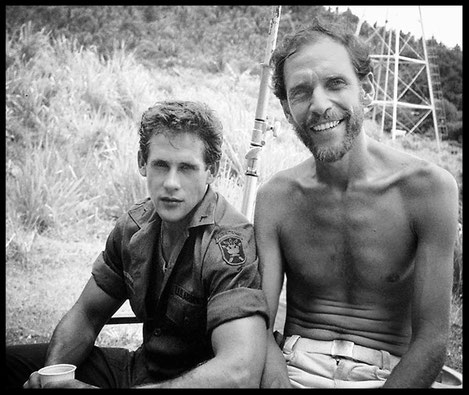 Michael Dudikoff and Sam during the making of American Ninja (1985)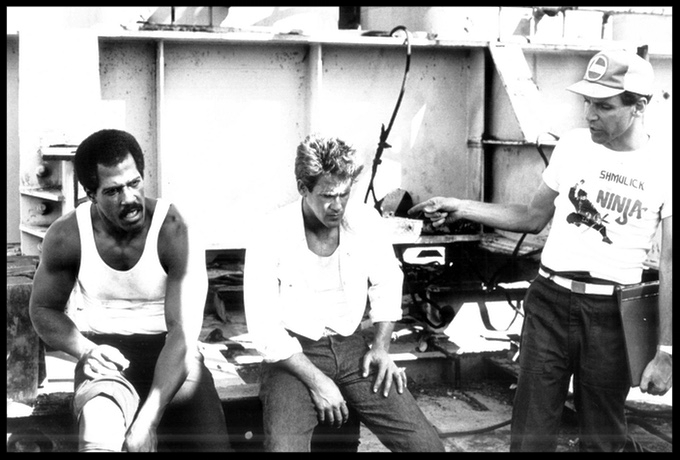 Steve James, Michael Dudikoff and Sam on the set of Avenging Force (1986)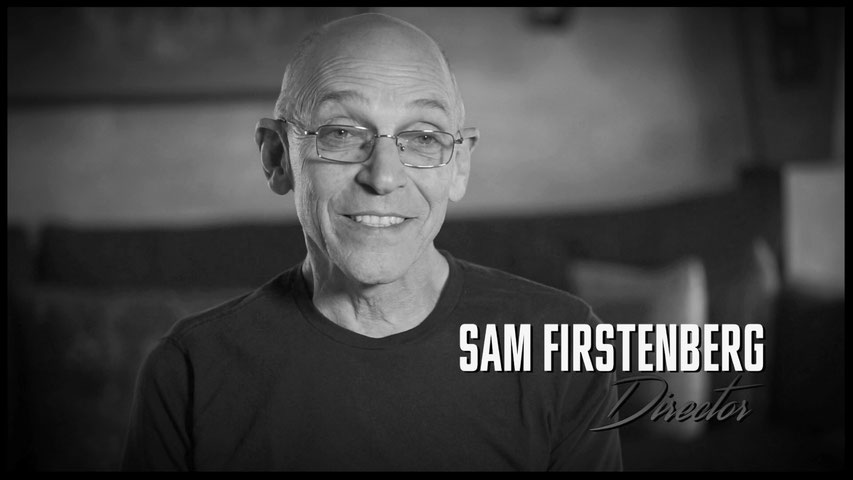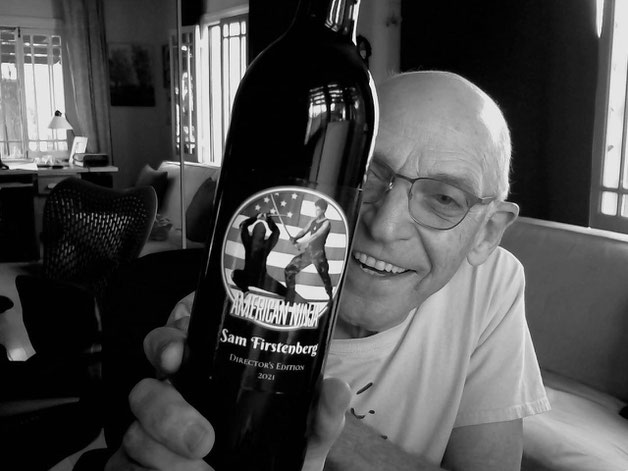 Thank you for inspiring my career, Sam!
- Marko